Main Content
Who Lives on Indian Creek Island in Miami Beach, FL?
Who Lives on Indian Creek Island in Miami Beach, FL?
Published On: Jul 26th 2022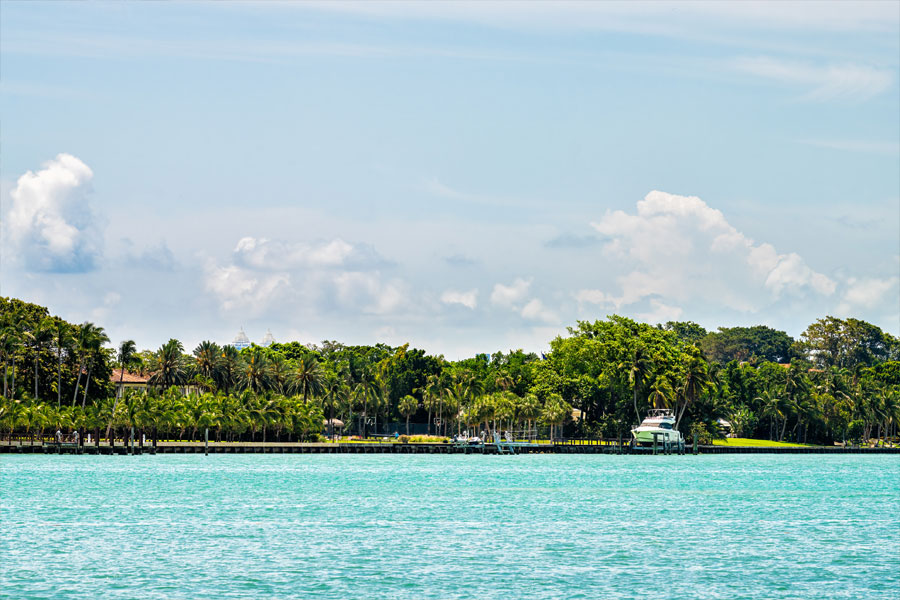 With just about 40 generous lots in total, a private security team, and top-tier amenities in an exclusive country club, Indian Creek Island offers a rare slice of luxury real estate in Miami Beach.
Since its creation in the early 1900s, "Billionaire's Bunker" has served as a private escape for the elite and influential. Buyers with the means of purchasing a coveted waterfront lot on this exclusive island get to be neighbors with some of the biggest names in sports, business, and popular culture.
Here's a glimpse of the high-profile residents who live on Indian Creek Island.
What's Inside:
Tom Brady
Tampa Bay Buccaneers quarterback, Tom Brady, owns a waterfront mansion in Indian Creek Island. Together with his supermodel wife, Gisele Bündchen, he bought the property in 2020 for approximately $17 million.
Earlier in 2022, after Brady announced his retirement after 22 seasons in the NFL (he later rescinded it and re-joined the team after 40 days), the couple revealed plans to demolish the original house in order to construct a more environmentally-friendly mansion.
The original house encompassed 5,772 square feet of living space, which is part of a larger two-acre plot of land overlooking the waters of Biscayne Bay. Brady can sometimes be seen aboard a 40-foot superyacht in the area.
Eddie Lampert
Hedge fund manager and former Sears CEO, Eddie Lampert, owns a 17,785-square-foot home that's within walking distance from the Indian Creek Country Club. This gives him quick access to a world class 18-hole golf course.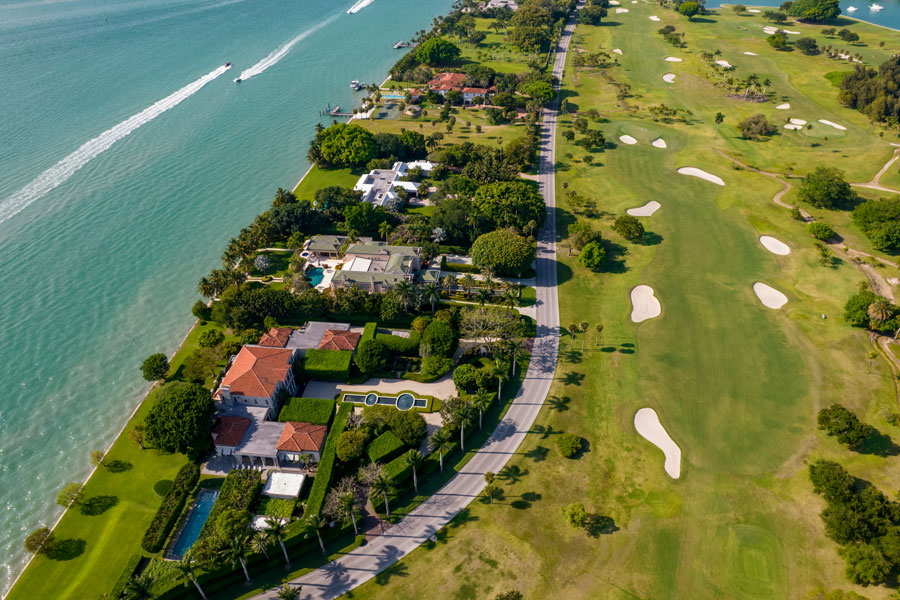 Lampert has lived on the island since purchasing the home in 2012 for just a little over $38 million — making it one of the largest single-family home purchases in Miami-Dade County. The 7-bedroom Italian-inspired house sits on nearly three acres of land.
Prior to stepping down as CEO of Sears in 2019, he was reportedly managing the company from the comfort of this vast waterfront estate.
Jaime Gilinski
In 2021, reports surfaced that Jaime Gilinski, a billionaire banker from Colombia, purchased Adriana Lima's Indian Creek Island home for a hefty $40 million.
This transaction would just be Gilinski's latest in a series of property purchases in the neighborhood. According to sources privy to the deal, Gilinski now owns five properties along 18 to 22 Indian Creek Island Road.
Lima acquired the 4-bed and 4-bath house in 2009 for a relatively smaller amount of $9 million. The property still has the original 6,465-square-foot house which was built in 1958, but it remains to be seen whether or not Gilinski will keep the historic structure.
Geert-Jan Bakker
Another business heavyweight who bought property formerly owned by A-listers is Geert-Jan Bakker, long-time CEO and Owner of Bakker Magnetics. Bakker purchased his Indian Creek Island estate from Beyoncé and Jay-Z in 2010 for $9.3 million. With an estimated net worth of $25 billion, Bakker is truly at home on this most exclusive of private islands.
Jefferey Soffer
When the incredibly large 29,000-square-foot Indian Creek Island home of Jackie Soffer went up for sale in 2020, no one expected the Chairperson and CEO of Turnberry Associates to sell to another Soffer. As it turned out, Soffer sold the expansive waterfront home to her younger brother, Jeffery Soffer, for approximately $17 million.
The Soffers are Miami real estate royalty. For 25 years, the two siblings co-managed Turnberry Associates — the massive real estate company that their father, Donald Soffer, founded in 1967. Since parting ways professionally in 2019, Jackie has taken on the reins of the Turnberry Associates brand. Jefferey started his own real estate venture in the form of Fontainebleau Development.
Ivanka Trump and Jared Kushner
For a true bearing of the most influential people who live on Indian Creek Island, look no further than the political power couple of Ivanka Trump and Jared Kushner.
The couple owns a 1.84-acre lot on the island, which they purchased in 2021 for a sum in the region of $31 million. This newly acquired property on 4 Indian Creek Island boasts 200 feet of shoreline. The previous owner of the property is one of Indian Creek Island's most prominent residents, Julio Iglesias.
Julio Iglesias
Julio Iglesias is widely regarded as the most commercially successful Spanish singer and one of the top recording artists in the world. He's been making the world swoon since the 70s. If the name is familiar to the younger generation, it's because he's the father of Enrique, himself a world-renowned artist. In 1979, at one of the peaks of his career, Julio Iglesias officially moved to Miami, where he purchased an Indian Creek Island mansion for around $650,000.
Despite selling one of his properties to Ivanka Trump and Jared Kushner (with the assistance of The Jills Zeder Team), Iglesias still has three more contiguous vacant lots up for sale. But Iglesias is not leaving the exclusive community anytime soon as he still maintains a residence on the island.
Find your dream waterfront estate in Miami's most exclusive island
Whether you're curious who else lives on Indian Creek Island or you're exploring houses or vacant lots for sale on Indian Creek Island, The Jills Zeder Group is in the best position to support you.
Through the powerhouse collaboration of The JILLS® and Zeder Team, real estate clients gain access to tailored services and the information they need on the most prestigious luxury properties in Miami. Book a consultation today by getting in touch with the team by phone or through email.
Subscribe
To Our Newsletter