Main Content
The complete guide to Fisher Island, Florida
The complete guide to Fisher Island, Florida
Published On: Dec 05th 2022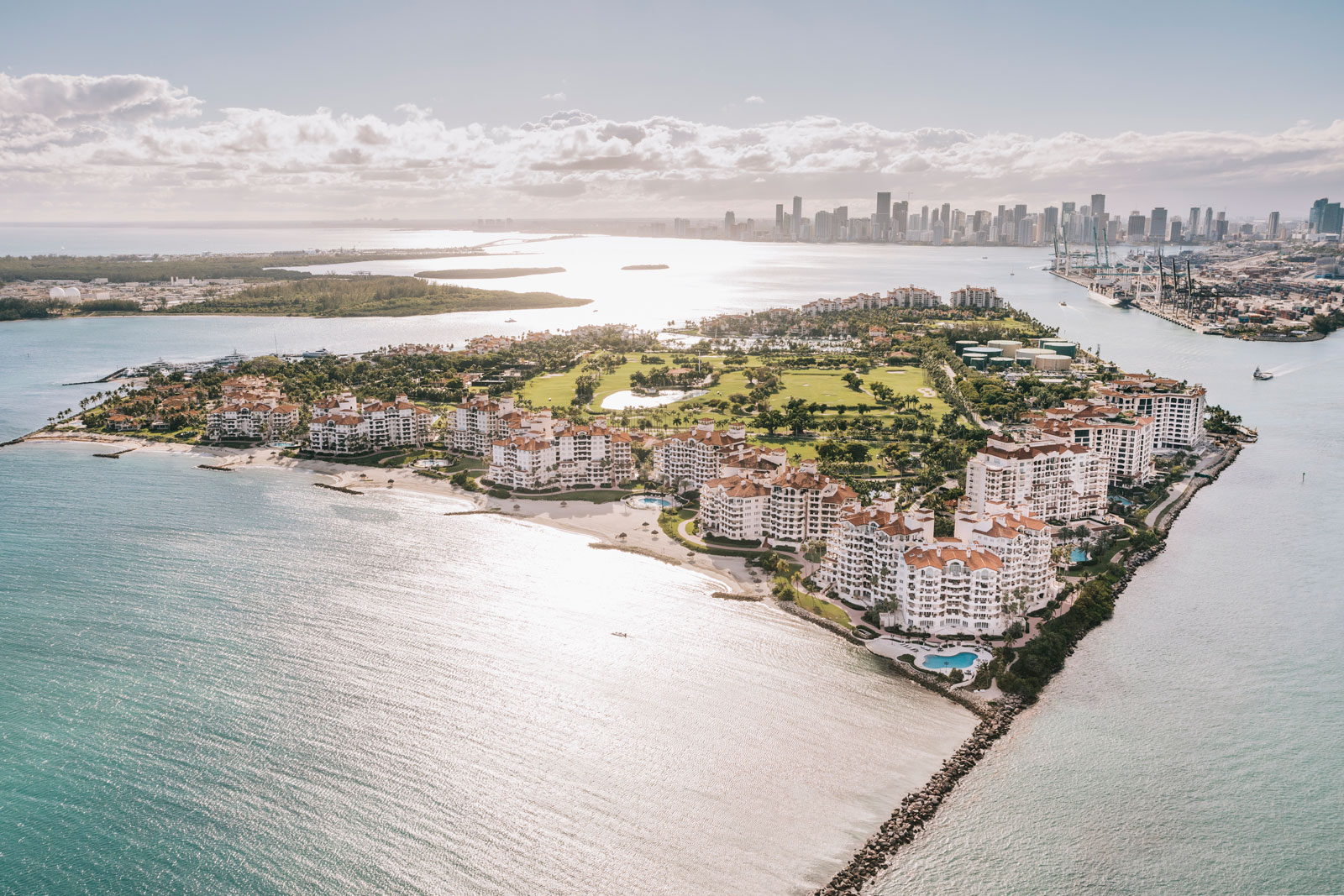 The epitome of exclusivity and luxurious seaside living, Fisher Island was once the home of the Vanderbilts. Today, it is the preferred enclave of 700 of the wealthiest and most influential families, celebrities, and tycoons in America.
At 216 acres, this private barrier island accommodates just 800 properties. In September 2022, houses sold at a median price of $5.4 million. However, a 3-bedroom, 3.5-bath, 3,928-square-foot single-family home listed in October 2022 had a price tag of $21.8 million.
If you're wondering what life is like on Fisher Island or are seriously considering a real estate purchase, you could ask former residents Oprah Winfrey and Julia Roberts. Otherwise, here's everything you need to know about this ultra luxurious island.
What's on the island
Located in the highly coveted eastern shoreline of Miami-Dade County, Fisher Island is a census designated place that has sweeping views of the crystal blue waters of the Atlantic. Less than six miles west of this triangular island lies Downtown Miami. South Beach is directly adjacent to the north, and Virginia Key and Key Biscayne are situated to the south.
The island is accessible only by air or by sea. It's divided into 12 residential areas that encircle Fisher Island Club at the center. Neighborhoods include:
Palazzo Della Luna
Completed in 2018, Palazzo Della Luna is a 10-story luxury condo featuring 50 units with the finest amenities imaginable. Designed by the renowned Miami architect, Kobi Karp, the unit boasts unbelievably spacious living areas (3,700 to 10,000+ square feet) with oak hardwood flooring. Each property has exceptionally large and deep terraces, which grant panoramic views of the water and the surrounding island landscape. Community amenities include a private salon, an infinity edge sunrise-facing pool, a croquet green, and a private tranquility garden. Inquire here.
Palazzo Del Sol
Another Kobi Karp-designed development, Palazzo Del Sol has only 47 luxury condo units. Floor-to-ceiling glass windows allow natural light to pour in and look out to views of the gorgeous waterfront. A limited number of penthouse properties offer heated, edgeless private pools and stunning rooftop terraces. Palazzo Del Sol residents enjoy amenities such as a fitness gym, luxury movie theater, spa and massage rooms, as well as private conference rooms. Inquire here.
Palazzo Del Mare
Facing South Beach to the north, Palazzo Del Mare offers just 32 condo units with elegant marble flooring and a Spanish-style flow-through layout. Living spaces range anywhere from 3,700 square feet to just over 7,000 square feet. Amenities include a golf course, 18 tennis courts, a marina and yacht center, a gourmet market, spas, and more. Inquire here.
Oceanside
As the name suggests, Oceanside directly faces the vast expanse of the Atlantic, offering residents one of the most secluded portions of Fisher Island. This development is mainly composed of six Mediterranean-style stucco buildings that can withstand the unique environmental conditions of the easternmost area of the island. You'll find 134 properties on site, ranging from 2- to 5-bedroom layouts with hardwood and marble flooring. Inquire here.
View more homes for sale on our Fisher Island Community Page.
Real estate market overview
Located in Miami-Dade County, the country's fifth wealthiest zip code in 2022, Fisher Island is not for the faint of budget. Multi-million dollar homes are a given in this market, with prices ranging anywhere from $3 million and $33 million. A handful of properties can be rented out for $14,000 to $85,000 a month.
Buildings pay homage to the Mediterranean Revival style of the Vanderbilt Mansion, the island's first structure erected in 1925. The architectural style's characteristic red, clay-shingle roofs cap the uniform array of luxury condos lining the waterfront. Each residential area or development has its own private waterfront and beach access.
Homes rarely go up for sale, but when they do, listing information is first shared among private networks. A trusted luxury agent in the know will be your ally when it comes to alerting you about unlisted Fisher Island homes for sale.
Of the 700 titans of industry, CEOs, high-profile developers, athletes, and A-list celebrities who own properties on the island, only 561 are permanent residents. However, the island has multiple restaurants, professional-grade tennis courts, a K-12 private school, and a spa with custom treatments.
Brief history of Fisher Island
At the beginning of the 20th century, there wasn't even a Fisher Island to speak of. That changed in 1903 when the government developed a plan to alleviate port congestion in the area. A large canal with the unflattering name of Government Cut was dug up, separating the majority of South Beach from a tiny chunk of land in its southern portion. The latter would effectively become an entirely new island in 1905.
A significant portion of the island would be owned by Dana Dorsey, one of Florida's first African American millionaires, before he sold it to real estate and automotive mogul Carl Fisher in 1919. The name "Fisher Island" stuck, even after the island changed ownership once again, this time to a William Kissam Vanderbilt II.
According to legend, Fisher agreed to trade seven acres of the island for a luxury yacht and It was a seemingly lopsided deal that was allegedly discussed while the two were less than sober. Over the next 20 years, the Vanderbilts would build an airplane runway and the Vanderbilt Mansion, surrounding it with cottages and other structures.
After William Vanderbilt II's death in 1944, ownership changed hands multiple times and the island was left without a unified and more purposeful development plan. That wouldn't happen until the 1980s when Fisher Island experienced a rebirth, capped off by the completion of the posh Fisher Island Club in 1987. As the wealthy and influential continued to flock to its shores, Fisher Island gradually became the exclusive enclave that it is known today.
Top attractions
Vanderbilt Mansion
This exquisite manse has survived the test of time. Designed by Maurice Fatio, it took a year to complete. The mansion sat on 13 acres of land, where William Vanderbilt II built a two-bedroom house that would be accompanied by a slew of outbuildings: three cottages, a spacious boat slip, and an airplane hangar.
An extensive, $60 million restoration project was completed in 2013 with upgrades to its features and amenities. The cottages have been transformed into hotel suites and the hangar converted to a spa.
Fisher Island Club
Fisher Island's crown jewel is its country club, where seaside golf, fine and casual dining, and an impressive array of amenities await.
It has one of the most sought after 9-hole golf courses in South Florida, putting both beginner and seasoned golfers alike through a variety of challenges. The course takes players through stunning man-made lakes and lagoons to meticulously sculpted bunkers. The P.B. Dye-designed championship course is complemented by a driving range and short-game area.
The club also has 17 tennis courts and 4 pickleball courts, the majority of which are available for evening play. Lessons and expert instructions are offered to those who wish to sharpen their game.
The Fisher Island Club has a fine selection of dining options. The formal dining area exudes a refined atmosphere that's perfect for celebrating a special occasion or engaging in a private business conversation. Meanwhile, Beach Club or The Links' Greenside Restaurant are best for casual seaside dining. La Trattoria is the club's premier pizza restaurant.
South Beach
Fisher Island residents are a quick aquatic ride away from South Beach, known for its equally gorgeous beaches and vibrant nightlife. Go bar or club-hopping in The Clevelander Bar and Havana 1957 or get lost in long conversations in beautiful outdoor cafés like On Ocean 7 and Shepherd Artisan Coffee.
In addition, South Beach has more than a handful of museums and boutiques that showcase a variety of stunning art, fascinating artifacts, and dazzling finds. The Museum of Illusion, for example, features mind-boggling and interactive visual displays. Head to KINETIC, a local luxury boutique, to purchase classic cars and rare artwork.
Work with the Jills Zeder Group
Get in touch with the #1 real estate team in Miami to learn more about life on Fisher Island and finding your place in the South Florida luxury real estate market.
The Jills Zeder Group is the most trusted team of seasoned Miami Realtors. Closing well over $8 billion in sales, this team is responsible for some of the biggest real estate transactions in recent memory. Its close affiliation with Coldwell Banker gives The Jills Zeder Group an international reach across 43 countries and territories.
Call the Jills Zeder Group here or contact them here to schedule a private consultation today.
Subscribe
To Our Newsletter