Main Content
South Florida Business Journal

The Wall Street Journal

CNBC

Forbes

Fox Business
Logo

HBO

Business Insider

CNN

The Miami Herald

ENews
Industry Leading
Marketing
The Jills Zeder Group will engage their highly qualified team to create the
assets that will support the marketing of the property.
Photography
An architectural photographer will shoot images of the property, highlighting each room and key spaces. Images used for the marketing campaign are carefully selected and enhanced to reflect the style and outstanding qualities of the property.
Video
A professional video will be taken of your property for use throughout the marketing campaign. These films are carefully curated with stunning city aerials and music to create the ultimate luxury experience.
Brochure
A professionally designed property brochure will be produced and available in both print and electronic formats. The property brochure is sent to targeted areas, top brokers and our curated list of clients and potential buyers.
Homes & Estates
Florida Portfolio
Homes & Estates is distributed through multiple channels to provide targeted reach to an affluent international audience:
More than 104,000 copies of each publication are distributed through insertion programs with luxury publications throughout the state, including: Miami Magazine, Sarasota Herald Tribune, Naples Daily News, Palm Beach Illustrated, Bay Magazine and Orlando Magazine.
Additionally, more than 2,000 copies of each are sent to Coldwell Banker® locations throughout Florida for in-office distribution.
Personalized copies of

The Jills Zeder Group

Homes & Estates – Florida Portfolio magazine are distributed to their high-end network, in addition to the impressive distribution outlined above.
The digital version is available at ColdwellBankerHomes.com.
Your luxury property will be presented on our full-page, color ad in the Sunday Home & Design section of the Miami Herald, as well as the Real Estate section as part of the Coldwell Banker page. Total circulation is more than 130,000.
Finding a discerning buyer for a one-of-a-kind property takes ingenuity — and an expert command of today's online arena. The Coldwell Banker Global Luxury® program has mastered the art of digital marketing, ensuring your property is seen by the widest possible audience of qualified buyers. Luxury properties that are marketed through the program will enjoy immediate syndication through a comprehensive network of prominent real estate websites, including WSJ.com, NYTimes.com, RobbReport.com, UniqueHomes.com and international websites through ListHub Global.
The social media landscape is yet another global stage where the beauty of your home may be put on display. Powered by THE JILLS ZEDER GROUP and the dedicated and expert social content team at Coldwell Banker®, the social networks under the Coldwell Banker Global Luxury® banner and THE JILLS ZEDER GROUP are among the most widely used sites today, delivering a unique perspective on fine living and fine homes all over the world.
Your property listing page will feature all property information, including our curated photography and property description.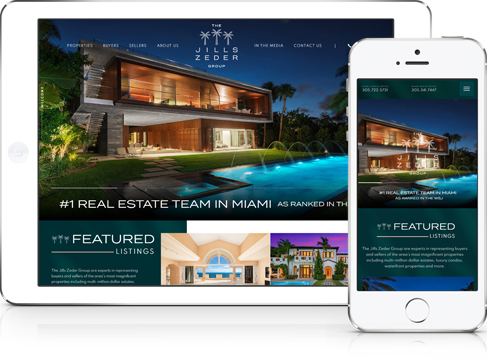 The Coldwell Banker® brand has long regarded mobile marketing as the future of luxury. Expertise in the mobile space has led to the creation of a unique suite of products designed to give Luxury Property Specialists the ability to respond immediately to online leads and maintain relationships with affluent clients who are on the go.
The standard of mobile: All Coldwell Banker websites feature responsive design, fully optimized for mobile.
Coldwell Banker mobile app: Delivers rich media and video integration, attracting affluent buyers seeking exceptional properties.