Main Content
Luxury Community Spotlight: Indian Creek Island in Miami Beach, FL
Luxury Community Spotlight: Indian Creek Island in Miami Beach, FL
Published On: Jul 26th 2022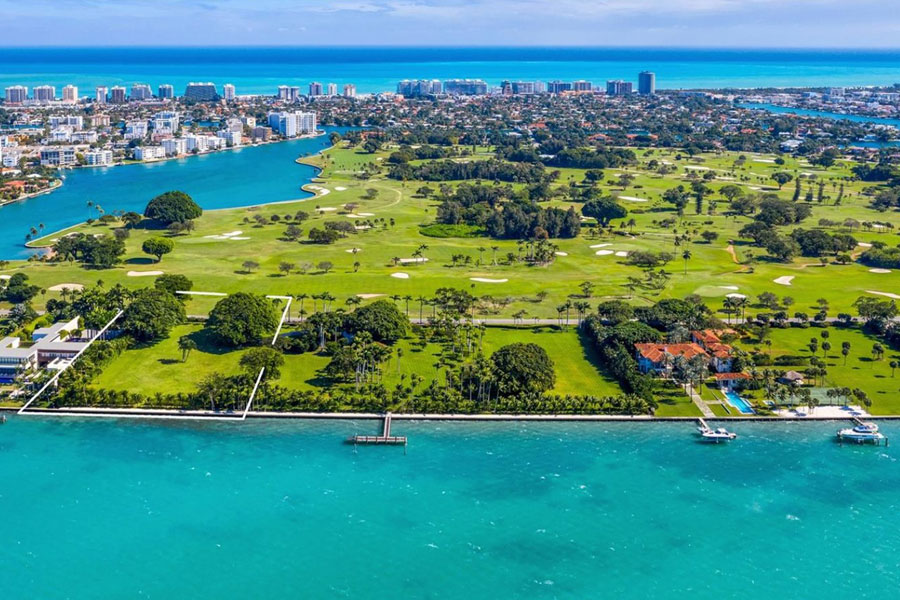 Indian Creek Island, also called "Billionaire's Bunker," is true to its name. It's certainly the most secure, and arguably, the most luxurious and exclusive neighborhood in all of Miami Beach.
There are less than 50 lots in total, all of which have water access and span more than 1 acre, some span several. Here, properties rarely sell for less than double-digit million. Homes are placed at the scenic edge of the island, and an expansive golf course and country club take up most of the inner space.
To ensure you have complete security as you enjoy unfettered access to breathtaking coastline views of Key Biscayne, there's around-the-clock private security and only one tightly-guarded entrance via a bridge.
In a nutshell, Indian Creek Island is the crème de la crème in the world of South Florida real estate. For the most discerning of buyers, the comforts of a home in this one-of-a-kind community simply have no equivalent.
What's Inside:
Brief history
Although it didn't bask in the spotlight in its early years, Indian Creek Island has always been the exclusive abode of the privileged and influential.
Dredging work in Biscayne Bay led to the creation of the island in the early 1900s. Developers emulated the environment of the English countryside to appeal to Miami's most affluent families.
Beginning in the 1930s (up to the 1940s), Miami's elite looked to the small island to build their vacation homes and enjoy the finest amenities in the eponymous country club. Some of these properties have been carefully preserved and are still very much a part of the community to this day. By 1938, the year the Indian Creek Village was incorporated, there were 17 residents in the community and 180 members of its private country club.
It wasn't until the 1990s and early 2000s that A-listers and ultra-high-net-worth individuals started making permanent moves to the exclusive community. This influx of the elite and the fact they were spending more time on the island was key in creating more family-friendly infrastructure and in updating of older buildings and roads.
Location and Living
Indian Creek Island is located north of Downtown Miami, by the crystal clear waters of Biscayne Bay. Just above the Indian Creek is the tiny island town of Bay Harbor Islands. To the south lies the Normandy Shores neighborhood. And to the east is the town of Surfside, which provides the only entry-point. Without the express permission of a resident or property owner, visitors cannot enter the island.
Indian Creek Island spans about 300 acres (about 120 hectares), accommodating 41 generous lots. There are 30 to 40 owners at any given time. For celebrities and billionaires looking for the highest degree of privacy and seclusion, this is the best that money can buy in the Miami Beach area, and indeed, in almost any part of the world.
As you would expect, such an exclusive neighborhood does mean that overall, the area does entail a higher cost of living than most other parts of the US. However, do take note that health services and utilities are actually cheaper here than the national average.
Real estate snapshot
Indian Creek Island commands top dollar when it comes to real estate. As its nickname Billionaire's Bunker suggests, homes for sale on Indian Creek Island normally reach multi-million dollar price tags. Some properties are priced at a low point of around $6 million, while some rise to well over $18 million.
Homes rarely go up for sale and when they do, owners often seek out sellers through private listings or word-of-mouth. A way to land yourself a property here is to enlist the services of an established Realtor who is in the know about these private sales.
What the homes are like
The island contains sprawling residences that provide plenty of room to enjoy the finest of luxury living. It's common to find 1-acre or multi-acre lots, with well over 10,000 square feet of living space. Apart from impeccable landscaping and tall shrubs and hedges for privacy, each property usually has several hundred feet of water frontage and a private dock.
Spacious single family homes typically incorporate Mediterranean architecture, which is in keeping with the design of the nearby Indian Creek Country Club (one of the oldest structures in the community). However, there are also properties that are fashioned in the Contemporary-style.
Community amenities
Indian Creek Golf Course – The crown jewel of the private island community, this 18-hole course was designed by William S. Flynn, one of the most notable golf course architects of the 20th century. Built-in the 1930s, the course combines simple design with a variety of long and short holes. Non-residents and non-club members may only play on the course with an endorsement from a club member.
Indian Creek Country Club – The country club features a complete suite of luxury and state-of-the-art facilities. Residents and their guests can lounge by the pool; get a full-body massage; or play a few rounds of tennis. A fantastic in-house restaurant and hosting area is available for a range of events and special occasions.
Prominent personalities in Indian Creek Island
There are a number of well-known celebrities and business tycoons that call this exclusive island home, including:
Tom Brady – The NFL superstar and his supermodel wife, Gisele Bündchen, purchased a $17 million mansion. In 2021, they revealed plans to demolish the existing structure to build a more eco-friendly home.
Ivanka Trump and Jared Kushner – The prominent political couple purchased a nearly 2-acre lot in 2021 for $30 million. It was once owned by the world-renowned Spanish singer, Julio Iglesias, who acquired the vast property courtesy of The Jills Zeder Group.
Leroy Schecter – Steel business tycoon, Leroy Schecter, owned a 22,000-square-foot mansion on the island up until 2014. It was sold for $28 million in 2014. The property was previously owned by Jay-Z.
Carl Icahn – Pioneer investor and financier, Carl Ichan, built an exceptionally large 7-bed and 8-bath home along 24 Indian Creek Island Road in 1994.
Explore Indian Creek Island further with Jills Zeder
For the most exclusive, one-of-a-kind luxury estate in Miami, call The Jills Zeder Group and we'll be happy to be of service. The JILLS® and Zeder Team are two of South Florida's most successful and enduring real estate brokerages. Since joining forces, The Jills Zeder Group has set a new high bar for luxury real estate.
Get in touch with the team today by phone or through email.
Subscribe
To Our Newsletter